Site Home
>
Dialogue, Inclusion, and Democracy (DID) Lab
Dialogue, Inclusion, and Democracy (DID) Lab
You can't solve a problem if you can't talk about it. – Beverly Tatum
---
Providence College is called on by its mission to "dialogue with others" and critically engage with the world. This commitment recognizes our responsibility to equip students with skills and tools to engage in dialogue across lines of difference and collaborate with peers with whom they disagree. These goals are especially timely given increasing polarization, the loss of trust in institutions and each other, and a growing number of adaptive public problems that require new ways of thinking, acting, and educating.
PC has been laying the seeds for civic renewal with the Dialogue, Inclusion, and Democracy (DID) Lab, an action research lab fostering civil discourse since 2018. Led by Dr. Quincy Bevely, assistant vice president for institutional diversity, and Dr. Nicholas Longo, professor of global studies, the DID Lab aims to develop a practical philosophy of "what works" to critically engage with complex issues and disputed questions.
Community Dialogue
The DID Lab is committed to community-based public dialogue that brings people together for mutual understanding, collaborative work that is shaped by our experience organizing the PC-Smith Hill Annex. A 1,000 square feet storefront property located in the adjacent Smith Hill neighborhood, the Annex was founded as a "civic space" with the goal of "fostering conversation in a wide range of configurations between members of the campus and community, with longer-term goals of greater mutual understanding and opportunities for collaboration."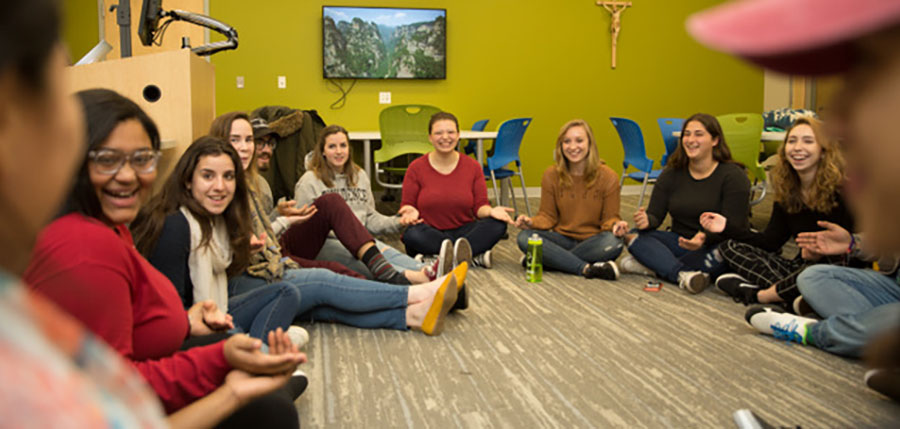 Conversations for Change
Conversations for Change will expand opportunities for students to engage in deep and meaningful civil discourse across campus and in the local community.
The project will strategically embed civil discourse in courses and student life, offer professional development to faculty, staff, and student leaders on facilitating dialogue on disputed questions, and disseminate lessons and tools to foster skills and traits for active citizenship. Ultimately, this project aspires to educate the next generation of leaders who will make meaningful contributions, address public challenges, and promote the common good.
Dialogue, Inclusion, and Democracy Lab News